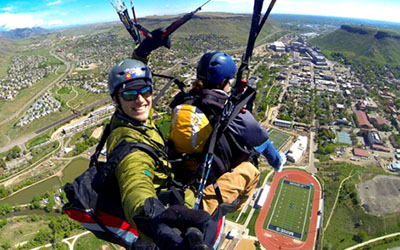 To schedule a flight either book online or give us a call to complete the reservation. The evening before your scheduled reservation you will receieve a call confirming the weather, time and any other questions you may have. If for any reason the wind or weather forecasts will not allow paragliding we can offer a full refund or select another day. We fly from a beautfiul location where friends, family and specatators are encouraged to join in and participate in the experience.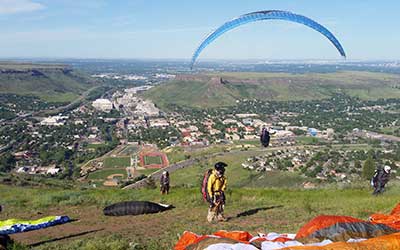 Our Mission.
The adventure of a lifetime.
Tandem Paragliding is the best way experience the thrill of free flight in Colorado for the first time. Whether you are an aspiring pilot interested in learning to speedfly, paraglide or just want to fly like a bird, a tandem paragliding flight is the way to get in the air. This is free flight, not parasailing like you would see at the beach when on vacation. Anyone over 18 and under 225 lbs can fly. Paragliders can fly to 10,000 feet or higher while covering huge distances if the conditions are favorable.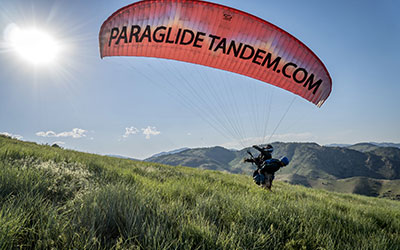 Summer 2021 Flying and Gift Certifcates
Knowledgable, passionate instructors eager to fly with you
We are in our most consistent season now through September. We are flying daily over Golden, Colorado. Each day as the sun hits our east facing slopes thermals form creating the rising air we need to soar. Come fly to find out more! Gift Certificates are now available for our 2021 season and can be transferred to anyone over 18 and under 225lbs.
mph
Speed through the air
The Tandem Experience
Here is what you can expect from a tandem flight with Paraglide Tandem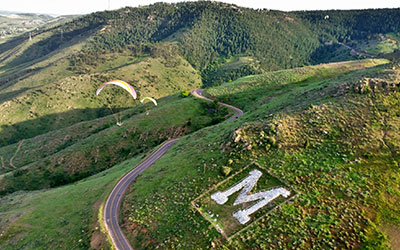 What you can expect
Knowledgable, passionate instructors eager to fly with you
All Paraglide Tandem instructors share one thing in common, a love for the sport and teaching. The opportunity to share in the joy a student feels when their feet leave the ground keeps us coming back for more. Spending the morning paragliding with us in Golden, Colorado.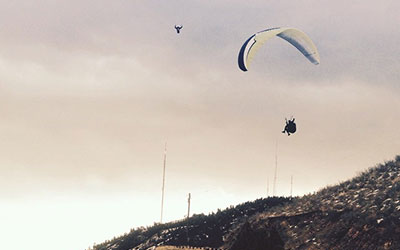 What is the Flight Like?
The adventure of a lifetime.
After a short hike from the parking area to the launch located next to the School of Mines M we will take 5-10 minutes to review launch, landing and the fundamentals of paragliders in flight. With all of the preparation completed we are finally ready to launch!With a few quick steps we will take flight over Golden, Colorado and enjoy a 5-15 minute descent back to the LZ. During the flight you will be seated in a comfortable harness with 360 degree views of the Golden, Colorado valley. We will be able to communicate during the flight. Flying with instructor assistance on the controls is not just allowed but recommended! After landing we will pack up the wing and revel in the fact we are one of the first generations to successfully explore unpowered flight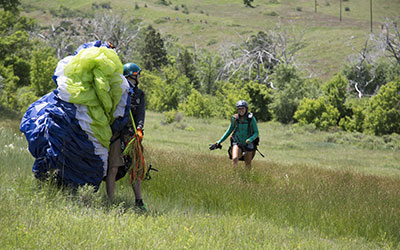 How you can fly solo
Enroll in a training program
Flying tandem is the first step towards becoming a licensed paraglider pilot. All tandem flights count towards an initial beginner pilot rating (P2). A tandem flight allows a high mountain thermal experience with an experienced instructor with little to no training Golden is an advanced front range paragliding site offering a complete soaring flight experience helpful in deciding if flying for you. Golden requires all pilots to have experience. All primary instruction takes place in North Boulder. We recommend Misha Banks with Red Tail Paragliding.Contact Red Tail for more info on how to complete your certification.
"The secret of flight is this -- you have to do it immediately, before your body realizes it is defying the laws."
Book your adventure now!
All Tandem Paragliding Lessons are $250
You can also purchase a transferable Gift Certificate that can be used at any time during our 2021 season.
Get in Touch with us
Still have Questions? Contact Us using the Form below.
"For once you have tasted flight you will walk the earth with your eyes turned skywards, for there you have been and there you will long to return."